LF518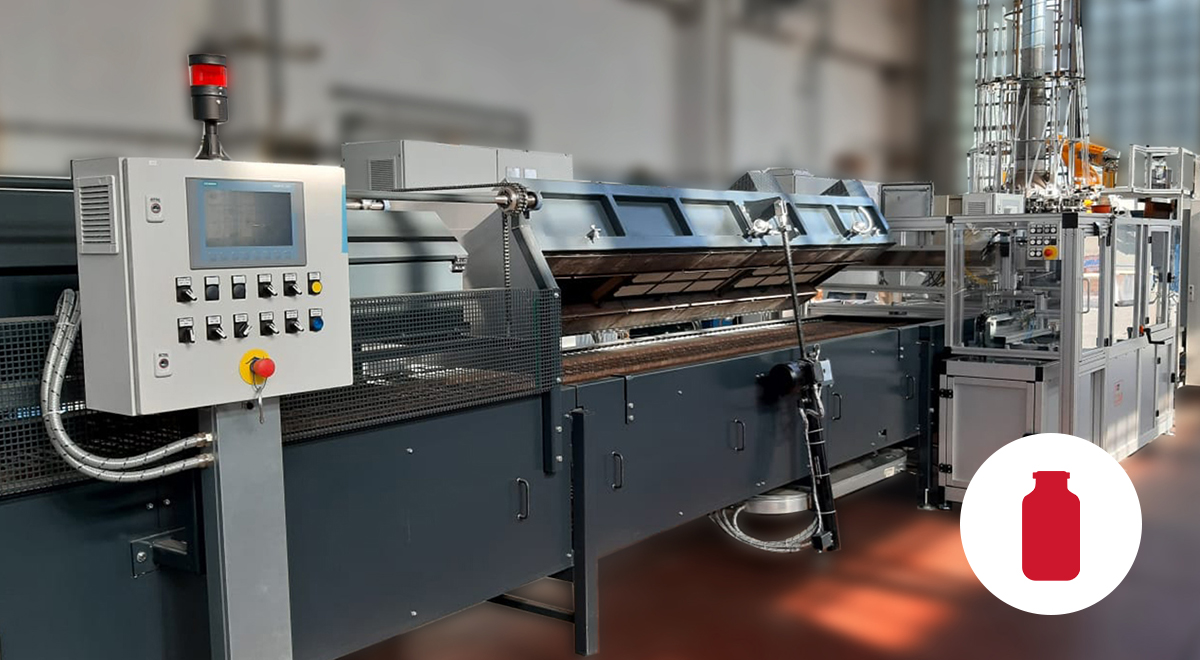 sales_glass@ocmigroup.com
Vials after-forming line suitable for connection with index rotation forming machine FLA18-9 supplied by OCMI-OTG. Equipped with renovated dimensional control stations. Complementary optional equipment available to increase automation and productivity.
MACHINE DIMENSIONS AND WEIGHT
| | |
| --- | --- |
| Average Lenght | 12.130 mm |
| Height | 1.700 mm |
| Width | 2.500 mm |
| Weight | 3.800 Kg |
AVERAGE CONSUMPTIONS
COMPLEMENTARY EQUIPMENT
Vial forming machine FLA18
Automatic packing machine PM-V
VIAL CHARACTERISTICS AND SPEED
| | |
| --- | --- |
| Glass Tube Ø | 8-30 mm |
| Max. Vial Lenght | 102 mm |
| Max. Prod. Speed | 3.000 Pcs/h (Mechanical) |
MAIN TECHNICAL FEATURES
Electronic synchronization with OCMI FLA18 index vials forming machine
Cooling conveyor, oven and packing equipped with new generation servo-motors
Cooling conveyor equipped with two cooling fans
Protection plates made of insulating material mounted on chain at the beginning of the line and at lehr exit to avoid the steel V-carriers to leave marks on hot vial
Electro-mechanical station for total lenght control
Camera control station for mouth inner diameter checking
Control panel connected with control stations of total lenght and mouth inner diameter for parameters setting and display
Possibility to install servo-controlled printing station if requested
Electric annealing lehr with 4 positions vial lodging trays, with dedicated pick&place vacuum manipulators for feeding and unloading
Packing conveyor with with adjustable lenght for the installation of camera control stations, if requested.